Hi, I'm Agnes ↝

I design, build and maintain software and hardware, sometimes alone but often with friends. I have a particular interest in simulation, distributed knowledge and infrastructural systems. Currently, I work with the Knowledge Futures Group, developing tools for open data curation and sharing, I am a resident artist at Somerset House Studios, and I make up 25% of the research studio Foreign Objects.

If you are an activist group or community organisation looking for technical support, I'm normally happy to volunteer my time. You can get in touch with me at: agnesfcameron at protonmail dot com.

This website was last updated on 28/11/21 [ ... ] An Introduction to the Bell System →
Permaculture Network →
The First 10,000 Years →
Garden of Blues →
Bot or Not? →
[ ... ]

03/11/2021 ↝

Inflatables Workshop

↝

I ran a short inflatables workshop at Somerset House, where 6 of us spent about an hour turning 3 packs of binbags into a surprisingly large spined snake. We took him out for a walk by the bar later.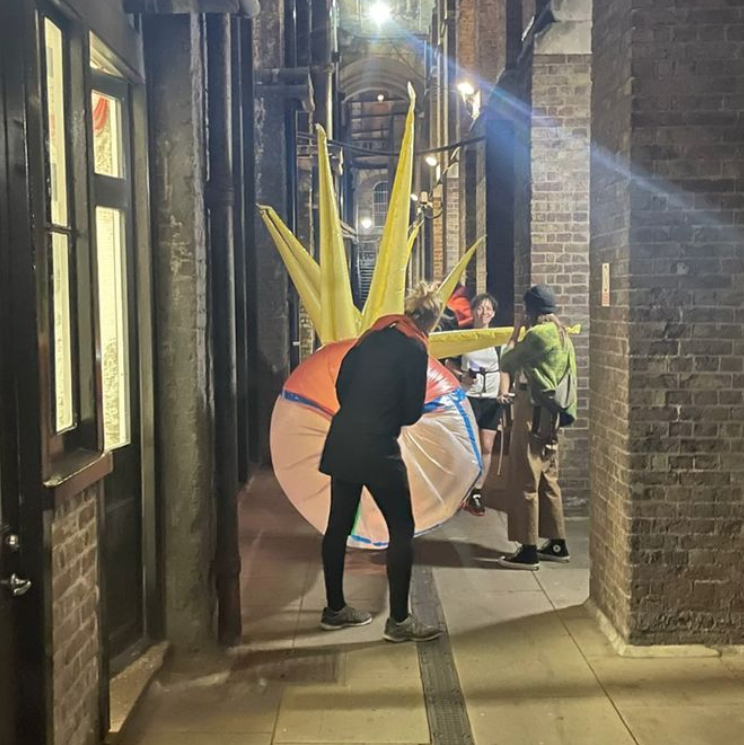 22/10/2021 ↝
Are.na Channel Walkthrough
↝
I took part in an Are.na Channel Walkthrough with Lucy Liu, Maya Man and Maria Gerdyman, in which I talked about collecting different knowledge organisation systems for food. Highlights include volumes 1 and 2 of Modifying Food Texture, this flavour-space and Patrick Gunkel's treatise on sausage-forms.
05/10/2021 ↝
RuneScape Economics
↝
As part of Trust's New Stack research programme, I am giving a play-through and talk about the economics of the MMORPG RuneScape, exploring the in-game market economy and related effects of scams, bonds, gambling and real-world trading. The talk will be Thursday October 7th at 8pm CEST on the Trust Discord.
16/09/2021 ↝
Blue Sky Gardening
↝
I'm taking part in Blue Sky Gardening: an exhibition of garden proposals and propositions, part of the Mecklenburgh Square Garden Project, with a simulation work about gardening and uncertainty. The exhibition runs from 25-28 of September, 11am-4pm.
09/09/2021 ↝
Transparencia Index
↝
Work from my collaboration with the artist Federico Perez Villoro is on show from now until January 21, 2022 at El Museo de la Filatelia, Oaxaca, as part of the exhibition of archival and contemporary Mexican mail art Cartografías Ocultas.
[ ... ]